Breakthroughs in nanoparticles for bio-imaging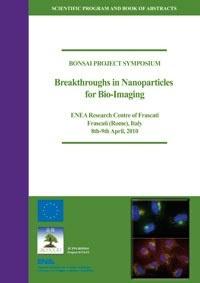 Kind of publications : VOLUME
Edited by: Elisabetta Borsella
Publisher: ENEA
pp. 80, 2010
ISBN: 978-88-8286-218-3
Price: free
This volume collects the Abstracts presented as contributions to the Symposium entitled "Breakthroughs in Nanoparticles for Bio-imaging", held on Apr. 8-9, 2010 at the ENEA Research Centre of Frascati (Rome), Italy.
Particles on the nanoscale exhibit extraordinary physical, chemical and biological properties significantly different from their conventional formulation on the micro-scale.
These unique properties offer exciting opportunities and potential benefits in a wide range of applications, including visualization of cellular structures (in tissues and organs), receptors, inflammation, and characterisation of suspect lesions.
In order to take full advantage of nanoparticles for developing truly innovative bio-imaging techniques, it is necessary to address challenging questions, including surface functionalization, biocompatibility, cellular interaction and uptake of nanoparticles, effect of shape, size and coating in nanoparticle bio-distribution.
The FP6 Project BONSAI (Bio-imaging with smart multi-functional nanoparticles) was funded by EC in the fall 2006 with the objective of contributing to the progress in this key research area and it is now approaching its conclusion.
The aim of the Symposium is to gather the BONSAI Partners and scientists active in the field (chemists, material scientists, physicists, engineers, clinicians and biochemists) to discuss new ideas, experimental results and perspectives ranging from the preparation to the applications of functional nanoparticles for bio-imaging and cell labelling.
The abstracts here collected concern the main topics of the BONSAI Project, i.e. Development of nanoparticles for bio-imaging, Cellular interaction and toxicity of nanoparticles and Bio-imaging using nanoparticles.
Disponibile in formato elettronico: