4th European Fuel Cell Piero Lunghi Conference & Exhibition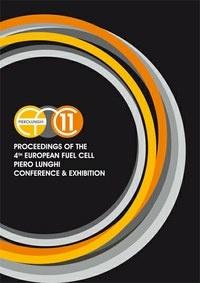 Proceedings of EFC11 - Rome, 14-16 December 2011
Kind of publication: VOLUME
Edited by: Viviana Cigolotti, Stefano Ubertini and Paola Lunghi
Publisher: ENEA
pp. 456, 2011
ISBN: 978-88-8286-254-1
Price: free
It has been organized in Rome, from 14th to 16th December 2011, the European Fuel Cell Technology and Applications – Piero Lunghi Conference" EFC11, one the most relevant scientific international event on Fuel Cell technologies and applications.
Organized by the University of Perugia, ENEA, and University of Naples "Parthenope", the European Fuel Cell Technology and Applications – Piero Lunghi Conference" reached successfully its fourth edition, becoming a major appointment which will gather up field's major experts, as well as representatives of national and international research institutions and industries involved in the development of this technology.
EFC11 covered all of Fuel Cells' topics: new Fuel Cell applications and products will be presented, as well as cell, stack and system modeling, balance of plant design, materials and fabrication processes; an overview of environmental problematic will be made with a review of EU and global policies on environment and energies, and market development and opportunities will be presented.
Questions connected to greenhouse emissions, climate changes, and contemporaneous increasing of global energetic demand, make necessary to re-think global energetic policies which should pass through the reconversion of productive and consumption patterns in direction of a "sustainability" able to guarantee the reduction of negative-weighting elements on environment and social communities, together with the empowerment of an ethical industry system to promote developing economies.
New technologies are a key ingredient of this re-conversion process, and between them hydrogen and Fuel Cells technologies, how demonstrates the European Hydrogen and Fuel Cell Platform established by the European Commission with the objective of facilitating and accelerating the efficient development of researches, programs and initiatives (at European and national level) in this field, as well to ensure a balanced and active participation of the major stakeholders.
In accordance with the EU action policy and the guide-lines defined by the Lisbon Treaty, the "European Fuel Cell Technology & Applications – Piero Lunghi Conference" contributed to introduce scientific progresses and the most modern applications of fuel cell-based technologies, intending to cement the collaboration between Research and Industry, and to transform the need of change in a resource to cultivate.
Disponibile in formato elettronico: