Implementing innovative solutions for sustainable energy systems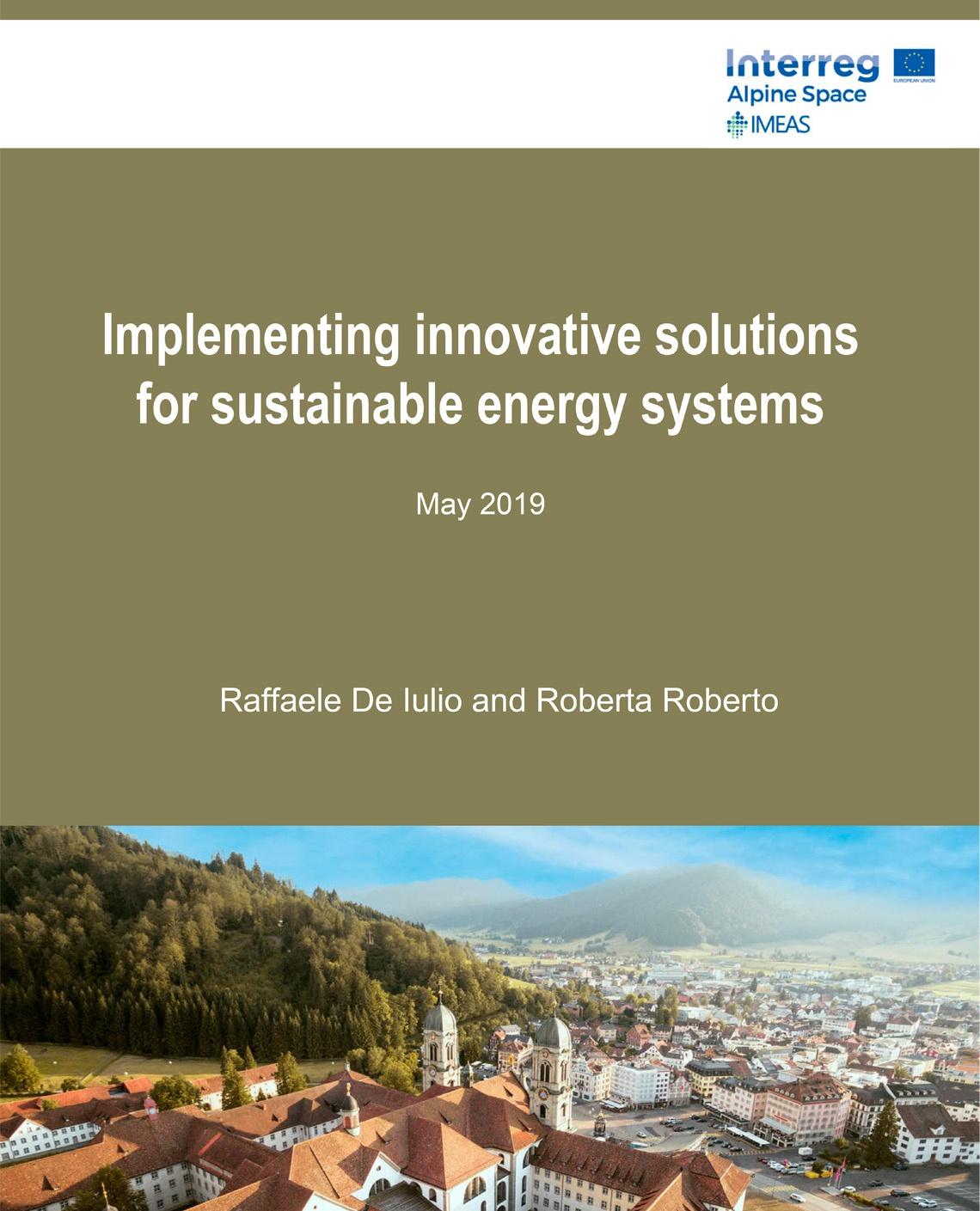 Tipo di pubblicazione: BROCHURE
Autori: Raffaele De Iulio, Roberta Roberto
Editore: ENEA
pp. 22, 2021
This Guideline gives an overview of technologies and applications that can play a key role in the low-carbon transition. The document is aimed to address readers with different levels of expertise and interest. In order to make the themes accessible to users from different backgrounds, the deliverable includes summaries and full documents on each topic, along with lists of references to documents and projects.
Extracts of the deliverable will be published on the IMEAS web Platform, in order to reach a wide audience and stimulate the discussion and sharing within the community. The Platform will give access to easy-to-use and easy-to-understand files, each technology being described in a Summary Document, a Full Document and a List of references table. All this files are downloadable separately on the IMEAS web Platform in the Contents section Technologies. They are collected here to form this Guideline.
The document is intended to be a living document, because it is periodically edited and updated, adding more details about the technologies, including new technologies or extending the tables of references.
The "Summary Document" is a synthesized description focusing on the main features, advantages, potentialities/barriers and potential for application in the Alpine Region territories. The "Full Document" is the extended version and contains more information with higher level of detail, graphs, schemes and examples of existing applications. The "List of references table" is a table containing links to scientific papers, documents, web sites and projects. Some of them have been used as references to write the guideline, the others contain further information.
This document illustrates Sector Coupling, a process that uses excess renewable electricity in another sector with respect to power one. This approach allows integrating different sectors in order to exploit synergies among them; electricity can be used to produce heat (Power-to-Heat) by heat pumps, to produce hydrogen or methane (Power-to-Gas) for vehicles (Power-to-Mobility) or to produce chemical compounds in industrial processes (Power-to-Industry). It is easy to understand that Sector Coupling can help the rise of renewables share and consequently the reduction of carbon emissions in sectors such as heating and mobility that are heavily dependent on fossil fuels. Another important topic described in this work is Energy Storage, which is the operation based on the capture of energy in order to use it when it is needed at a later time. Energy storage is fundamental to enhance the efficiency of the entire energy systems, and it has a key role in improving the penetration of renewable energy sources because it gives flexibility, allowing matching the needs of generation and demand. Another important topic introduced is blockchain, a virtual ledger that allows having infinity of transactions in the energy market, avoiding the centralized and expensive settlement. The potential of blockchain is to enhance the role of prosumers and support the development of microgrid with high-share of renewable energy sources.
It is worth mentioning that Sector Coupling, Energy Storage, Blockchain and demand side management together are considered very important for the future Smart Energy Systems, characterized by an optimized integration among sectors and by a large use of carbon-free energy
Disponibile in formato elettronico: